Laka, partner of Porsche Ventures, enters the German market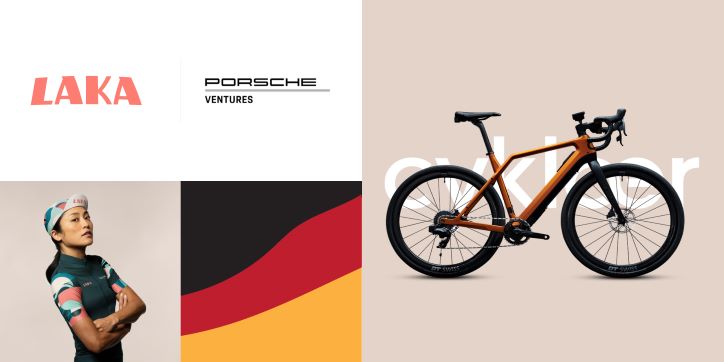 Laka entered the German market with new funding from Porsche Ventures, the venture capital unit of Porsche AG.
Insurtech's award-winning micromobility continues to expand across Europe to better serve individual riders and businesses with a fairer collective approach to insurance.
At the launch, Laka Founder and CEO, Tobias Taupitz, said, "I am thrilled to return to my roots and launch Laka in Germany, our 5th market. Growing up near Stuttgart, I couldn't have asked for a better launch partner than Cyklaer, a beautifully designed e-Gravel Bike. I look forward to providing fairer, technology-driven insurance to individuals and businesses in Germany. »
Laka's technological innovation is why smart e-bike brand Cyklaer, renowned for its smart digital features and design, chose to partner with Laka Insurance.
Patrick Huke, Head of Porsche Ventures Europe & Israel comments: "The increasing digitization and variety of sustainable mobility offers lead to the need for an innovative and customer-centric offer in the field of digital insurance. With this investment and partnership, we are excited to support a strong team that approaches the global insurance market with a unique, highly adaptable and digital business model that focuses on customer experience first and foremost.
Cyklaer joins a stellar list of European Laka partnerships including manufacturers, retailers and leasing companies. Partners include the world's largest sports retailer, Decathlon, cycling brands Raleigh and Le Col, banking partners Santander Consumer Finance and Monzo, and business customers Randstad, Docker and EAV. The partnerships range from digital experiences to protect customers at the point of sale to providing flexible insurance solutions for micromobility businesses.
"Laka has built on being an award-winning bicycle insurer to now uniquely position itself as the go-to micromobility insurance provider in Europe. We are excited to bring our modern and refreshing group insurance model in Germany, a cycling nation where micromobility is part of everyday life and continues to grow in importance. At a time when the shift to a greener future has never been more important, we are excited to help support growth of micromobility in Germany with partners like Cyklaer driving the adoption of e-bikes and e-mobility," notes Laka CMO Kelly Barnes.
Laka's business model challenges traditional insurance by charging customers based on the actual cost of claims submitted the previous month, passing on lower prices from fewer claims, while protecting customers in their collective against higher claims with a maximum billable amount. Costs are reduced with Laka's unique, technology-driven, daily pricing and risk models, with clients enjoying full transparency on where their money is going each month.
Laka Insurance is now available for all bikes in Germany, and through our partnership with Cyklaer e-bikes. Customers can purchase Cyklaer e-bikes at www.cyklaer.de and via JobRad.
For more information about Laka, visit laka.co
For an overview of Porsche's evolution towards the cycling industry and eMobility:
Porsche eBike Performance GmbH enters the bicycle market
Porsche acquires e-bike maker Fazua
Porsche forms a strategic partnership with Ponooc, the venture capital arm of PON Holdings (Ponooc's investments include the latest insurer Laka, Bikemap, Docker and Movelo. Pon Holdings is an established distributor of Porsche products.)